2022 Financial Markets Campus Recruitment Insights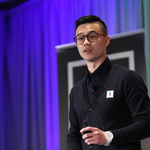 Updated by Justin Ling
2022 Financial Markets Campus Recruitment Insights (Hong Kong + Singapore 🇭🇰🇸🇬)
Written by Justin Ling | Founder @EquitySim 
For the last 3 years, I've helped students from around the world gain exposure to finance opportunities in APAC, through an online finance simulation. This year we had over 3,000 students participate in our 6-month-long learning experience. I've surveyed these candidates, and this report outlines insights that are beneficial to Campus recruitment teams.  
Survey Results: Students applying to Financial Markets Roles in Hong Kong and Singapore 🇭🇰🇸🇬 (based on 59 responses)
Who took this survey?
Job offers received by survey respondents: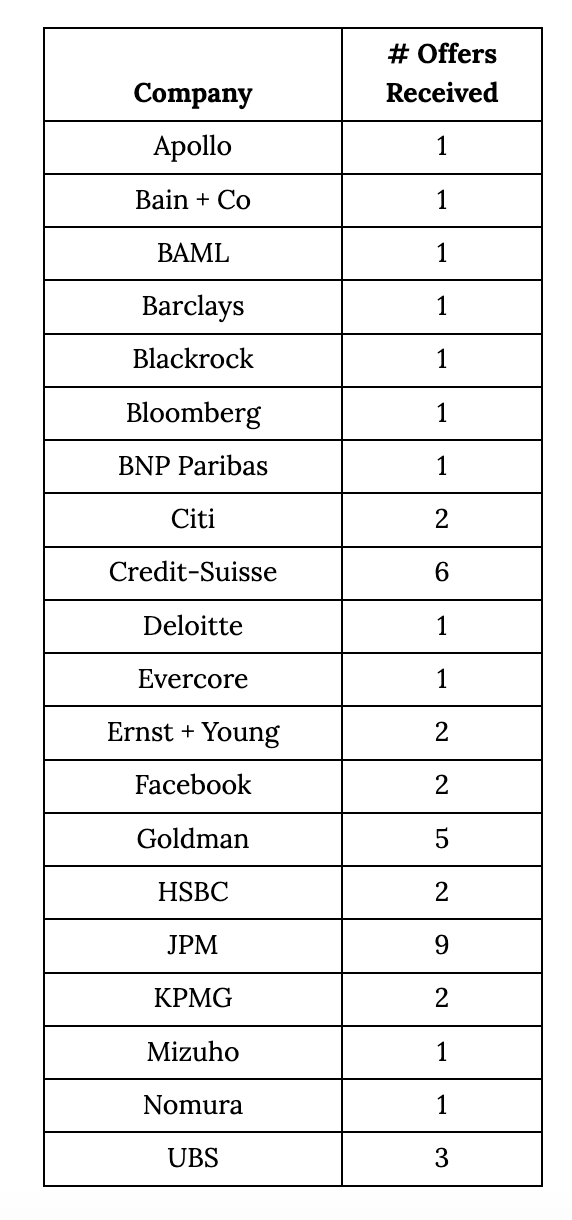 How candidates ranked their opportunities 
What career opportunities did you consider for yourself?
INSIGHT: This candidate pool had their eyes set primarily on a career in Finance. This means that for this group of candidates, Campus recruitment mainly competed with other Financial Institutions. 
Investment Bank Rankings 
For this group, working at a bulge bracket Investment Bank was a top priority. We asked candidates to categorize their Investment Banks preferences. The buckets were named "First Choice", "Second Choice" and "Third Choice." 
Based on these results, we gave a value to each bucket (2 points for each First Choice, 1.5 points, for each Second, and 1 point for each 3rd), and used this to create a numerical ranking: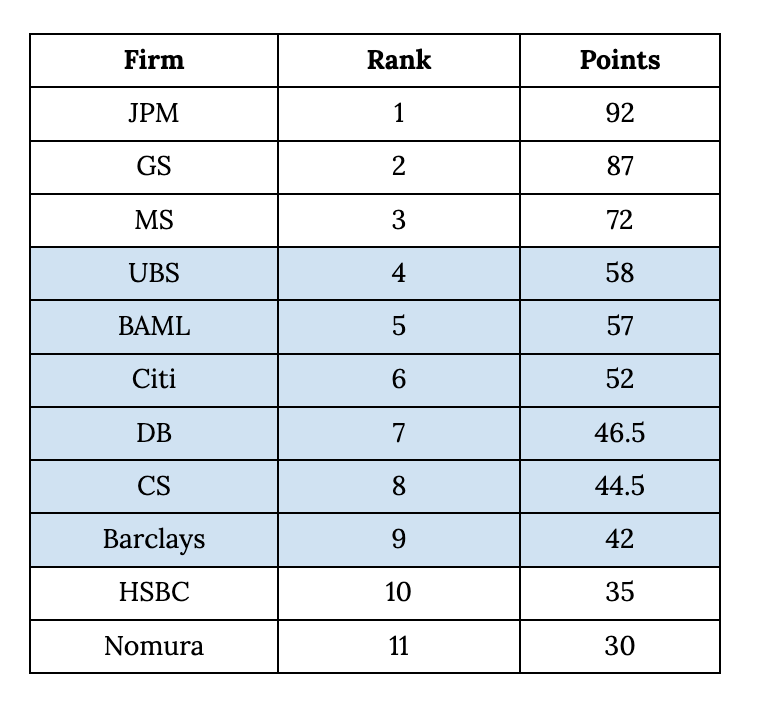 INSIGHT: While there is a big gap in preference between the top 3 banks and the rest of the firms, the core middle (highlighted in blue) remains relatively close. Within the core middle, there is a large opportunity for Campus Recruiting to create value and secure talent.   
How to win talent?
We asked candidates to write long-form answers to "How did you make your decision on which firm to choose?" There were some popular themes in the answers, here are the number of times each theme was referenced: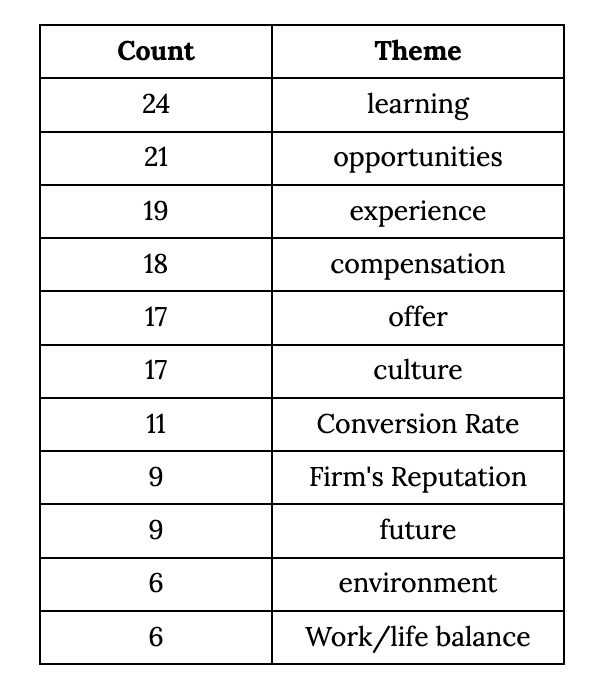 INSIGHT: Candidates put great value on how they feel the firm will help them grow and develop their talent. They placed "learning", "opportunity", and "experience" as their top priorities, this was mentioned more times than compensation and the brand name. If Campus Recruiting can demonstrate their firm's ability to develop and grow candidates during the recruitment process, this could increase their likelihood of attracting + securing top talent.  
Some specific written responses from candidates 
Bella, received offers from S&T@JPM, S&T@GS, CWM@GS, ETF Investing@Blackrock: 
"I chose to join GS S&T next summer. Since they are all roles in the secondary markets, I am interested in all the offers. But I always have a higher preference for S&T as I really enjoyed it from my last S&T summer internship. I consider myself an outgoing individual that enjoys communicating with different people, so I find sales roles greatly match my personality. 
Other criteria I considered include: 
1. Future prospect: I look at the brand name of the company, such that I can be more likely to land a full-time job even if I couldn't get a return offer. Finally, I also look at the exit opportunities of the position (S&T > PB)
2. Support to juniors: I look for companies with a bigger platform and rich resources for juniors' career development. I also prefer rotational programs as I can get to explore my interest in different asset classes and expand my network further.
3. Future salary: I also care about the short to medium-term salary progression of the full-time positions  
4. Company culture: I want to work in a fast-paced environment surrounded by smart and motivating individuals, such that I can have a steeper learning curve and a fruitful career. Therefore, I find GS's culture and the trading floor greatly align with my interest."
Polaris, received offers from DCM@JPM, S&T@HSBC, S&T@Credit-Suisse:
"1. chances to get an extended full-time return offer
2. opportunity of rotation in different desks
3. exposure to different asset classes
4. opportunity to work in both sales/trading desk"
Rachel, received offers from S+T@Credit Suisse, Private Banking @ HSBC, Hedge Fund Intern@Polymer Capital: 
"1. Company's culture- whether the company has a supportive, encouraging culture for juniors and whether or not they have enough mentoring sessions for interns
2. Business Prospect- since I'm interested in S&T and Wealth Management roles, I would consider if the firm has a large pool of institutional/ retail clients with high loyalty to the firm. I would also consider the competitive edge of the firm's services in these fields compared to other ones to see if the firm can maintain its competitiveness in the future
3. Return rate- I would prefer firms with a higher return rate for interns so that there's a higher probability of me returning to the firm as a graduate trainee and I do not need to go through the recruitment process all over again upon graduation.
4. Work-life balance- I would prefer working in European banks as they have a better work-life balance compared to US Banks."
INSIGHT: Top candidates put deep thought into how to choose their offers, and have a sophisticated criterion. If HR can get ahead, and discuss topics they know candidates care about, this could help secure the candidate. 
Conclusion / Final Insights 
We believe that the most powerful way Campus recruiting can build and attract top diverse talent is by introducing some form of educational experience in the recruiting process.
How EquitySim helps campus recruiting teams 
EquitySim helps Financial Institutions across APAC attract and develop top junior talent. We design online learning simulations that engage talent, help them learn about the finance industry, and then build skills needed to succeed in recruitment. This sponsored experience helps our clients build relationships and trust with their prospective talent. 
We also evaluate the talent that participates in our learning simulations to provide a streamlined recruitment pipeline (direct to Superday) for our clients. Our method provides a unique candidate pool, that we can pull top talent from and put directly into Superday. This makes it much easier for recruiting teams to meet their hiring + diversity targets, and also helps to ensure quality.   
INSIGHT: In 2022, EquitySim hosted a learning experience that engaged ~3,000 candidates from a diverse set of backgrounds. 58.6% of these candidates felt the experience was definitely valuable. 
Testimonials / EquitySim in the news:
If you are interested in chatting more about this research, or about how EquitySim might help you with your recruitment needs, please feel free to connect with me: at justin@equitysim.com, or via LinkedIn: https://www.linkedin.com/in/linktojustin/